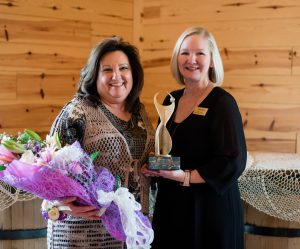 "I'm speechless," said Beth Meadows as she took the mic after having been announced as this year's Athena recipient, "and I'm almost never speechless." Meadows was awarded the 2020 ATHENA Leadership Award® by the Marion Women's Business Council in festivities that took place Monday, March 9, in The Barn at All Occasions.
As advisor of volunteer services for more than 15 years, Beth Meadows has sustained and enhanced a program that today boasts nearly 200 volunteers who contribute more than 22,000 hours of time each year to Marion General Hospital. Additionally, she supports the work of seven TWIG organizations who collectively host 14 fundraising events, operate two full-time gift shops, and contribute back to the hospital over $100,000 each year to purchase equipment, pay for services and support continued education.
Along with her work as advisor of volunteers, Meadows also is the advisor for philanthropy for the Marion General Hospital Foundation. In this capacity she works to develop a donor base that allows the foundation to support the work of the hospital through patient support, associate scholarships, building improvements, medical equipment purchases, and community support. Since the 1990s, the Marion General Hospital has contributed over $1,000,000 toward the establishment and operation of the Center Street Community Health Center and has contributed tens of thousands more to other organizations who have like-minded missions as that of the hospital "to improve the health of those we serve."
Meadows has dedicated her life in service to her church, Family Life Church, having served as teacher at nearly every level; serves on the worship band, and is active in small groups. As a daughter of the founders, Meadows has spent her entire life serving the church family of Family Life Church. Beth gives significant time providing occasional pre-marital counseling, family and parenting coaching, helping to lead as a vocalist on the worship team and serving as counsel for the vision and future of the ministry
In her role as Downtown Marion's president since 2013, Meadows has not only provided opportunities for men and women to become community advocates, but, has been an exemplary example that there are no boundaries, no limits, if one has a dream and a vision and has proven that we become unstoppable. The strides and successes recognized and acknowledged today and the steady incline that continues to be made in downtown Marion are a direct result of the forbearance and perseverance of Meadows. And her vision is not just for Downtown Marion, but for the entire community as we work together to have vision become "reality".
"In conclusion," said Doris Swartz who nominated Meadows, "one could say that Beth is the 'queen' of volunteerism at MGH, but as a volunteer for Downtown Marion Inc, one can definitely say "Volunteers do not necessarily have the time, they just have the heart'". (author unknown)
As part of the Athena process, each winner choses a Marion-area charity of their choice for the proceeds of a silent auction and a $2,500 matching donation from Modern Woodmen Fraternal Financial to be contributed to. Meadows choose Downtown Marion, Inc., who will receive over $6,000 as a result of the generosity of many.
Other nominees included:
Dr. Heather Columber, Family Practice Physician, OhioHealth
Tara Dyer, Mentor Supervisor, Marion Mentors 21
Bev Ford, Executive Director, Marion Palace Theatre
Sharol Herr, President, Marion County Federation of Women's Clubs, Inc.
Heidi Jones, Director, Marion Matters, Inc.
Traci Kinsler, Health Commissioner, Marion Public Health
Ellen Messenger, Director of Communications, Tri-Rivers Career Center
Barbara Mills, Executive Director, Voice of Hope Family Pregnancy Crisis Center
The ATHENA was inspired by the goddess of Greek mythology known for her strength, courage, wisdom and enlightenment – qualities embodied in the ATHENA Leadership Model. The Award is unique in both scope – local, national and international – and the ATHENA mission upon which it is based. The ATHENA Leadership Award is presented to an individual who is honored for professional excellence, community service and for actively assisting women in their attainment of professional excellence and leadership skills.
Marion Women's Business Council is dedicated to inspiring women to reach their full potential through mentoring, networking education and recognition. Visit www.WomensBusinessCouncil.com for more information on the ATHENA or how to become a part the Marion Women's Business Council.