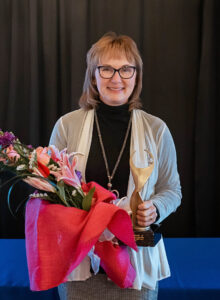 2022
Ellen Messenger, 2022 ATHENA Recipient
Tri-Rivers Joint Vocational School District
Ellen Messenger is the 2022 recipient of the Athena Award, presented by the Marion Women's Business Council. She was one of eight nominees for the 2022 award. Messenger serves as a board member for numerous organizations in Marion County. She has worked at Tri-Rivers Joint Vocational School District since 1990.
A Marion County woman who prefers to work behind the scenes to serve her community is the 2022 winner of the Marion Women's Business Council (WBC) Athena Award.
Caledonia resident Ellen Messenger was announced as the winner during the WBC's annual luncheon held Tuesday at The Barn at All Occasions Catering in Waldo. Her husband, Paul, accompanied her to the event.
"I'm definitely a behind-the-scenes person," said Messenger, who has been the community relations director for Tri-Rivers Joint Vocational School District since 1990. "I love to see other people shine and I like to events and things that celebrate other people's successes."
Inspired by the Greek goddess representing strength, courage, wisdom and enlightenment, the Athena Award is presented to an individual in the Marion County community who shows professional excellence, creativity, initiative, and leadership to Marion County's women.
Messenger said the work that the Women's Business Council does is vital to fostering the success of women in Marion County.
"I think it's important for women to support women and reach back around to younger women and pull them up so maybe they don't have to go through the same things you went through," she said. "You can mentor them and help them on their path to be successful. I know at the stage of life that I'm in, it makes me happy to see young women be successful and get involved in the community. Anything we can do to encourage that is good.
"We have some really neat young women coming up and that excites me because I'm getting close to the end of my career, so I feel good when I see young people stepping up and getting involved. I hope I can encourage them to do that."
For Messenger, there's no place she'd rather live and work than Marion County. She noted that being active in the community brings her joy.
"I love Marion. I've loved being in Marion from the time that I moved here," she said. "I was working in Columbus, but I wanted to work where I lived. So once I did that, it made my heart happy to be part of what's going on. And to see Marion right now, getting back on its feet and doing amazing things, if I can play some small part in that it feels really good. I just believe in Marion.
"I think we're headed someplace really good. I think we're already in a good place."
Ellen Messenger said her husband, Paul, is her greatest supporter. She is the recipient of the 2022 Athena Award presented by the Marion Women's Business Council. They are shown at the awards luncheon held Tuesday, March 15, 2022, at The Barn at All Occasions Catering in Waldo.
Diane Watson, Messenger's longtime friend, and colleague, and Charles Speelman, superintendent of the Tri-Rivers Joint Vocational School District, nominated her for the award.
"With Ellen it is truly about the cause and not the applause," Speelman wrote in his nomination. "She often works tirelessly behind the scenes. She doesn't believe her service is to Tri-Rivers only, but to the community as a whole. Giving her time and talents to the community is all about helping Marion grow and succeed one person at a time."
Messenger said she appreciates the support and friendship both Watson and Speelman have extended to her over the years that she's known them. However, she noted that her husband, Paul, is her greatest supporter.
"Paul is accepting of me being gone a lot and working on things," she said. "Oftentimes, he's helping me with a lot of things, so he's been that true support all the way through. He's a behind-the-scenes person himself, but he's more than willing to go to everything with me and help out, so I definitely thank him for all of his support. Any award also goes to him, too."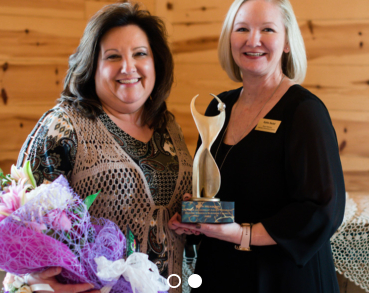 2020
Beth Meadows, 2020 ATHENA Recipient
Marion General Hospital
Beth Meadows won the Athena Award on Monday for her work with Marion General Hospital volunteers and her work promoting downtown Marion.
Meadows is the president of the board of Downtown Marion Inc., which promotes and encourages development in the downtown, and is volunteer services coordinator at OhioHealth Marion General Hospital.
She received the Athena Award from the Marion Women's Business Council, which has presented the award every year since 1998 to a woman who shows professional leadership, community service and a passion for advancing women.
At a luncheon announcing her as the winner, Meadows thanked the council for the nomination and tipped her hat to her fellow nominees.
"Thank you for all the ladies that I get to stand up here beside. Goodness sakes, you guys are doing some great work, and I applaud you, seriously, big time, for all the work that you're doing," she said after receiving the award. "Thank you for trying your very best to make Marion the community that we all can be proud to live in."
As volunteer services coordinator, Meadows helps run a program that boasts nearly 200 volunteers who give more than 22,000 hours of time each year to Marion General, according to her bio. She also supports the work of seven TWIG organizations.
Meadows also is adviser for philanthropy for the Marion General Hospital Foundation, where she works to develop a donor base to support the work of the hospital through patient support, building improvements, medical equipment purchases, and more, according to her bio.
The Marion Women's Business Council will donate about $4,000 to Downtown Marion Inc., the nonprofit of Meadows' choice. A matching donation of $2,500 will also be donated to Downtown Marion Inc. by Modern Woodmen of America, a financial services organization.
Eight other women were nominated for the Athena Award this year: Heather Columber, Tara Dyer, Bev Ford, Sharol Herr, Heidi Jones, Traci Kinsler, Ellen Messenger and Barbara Mills.
The ATHENA was inspired by the goddess of Greek mythology known for her strength, courage, wisdom and enlightenment – qualities embodied in the ATHENA Leadership Model. The Award is unique in both scope – local, national and international – and the ATHENA mission upon which it is based. The ATHENA Leadership Award is presented to a who is honored for professional excellence, community service and for actively assisting women in their attainment of professional excellence and leadership skills.
Marion Women's Business Council is dedicated to inspiring women to reach their full potential through mentoring, networking education and recognition. Visit browse our site for more information on the ATHENA or how to become a part the Marion Women's Business Council.
2019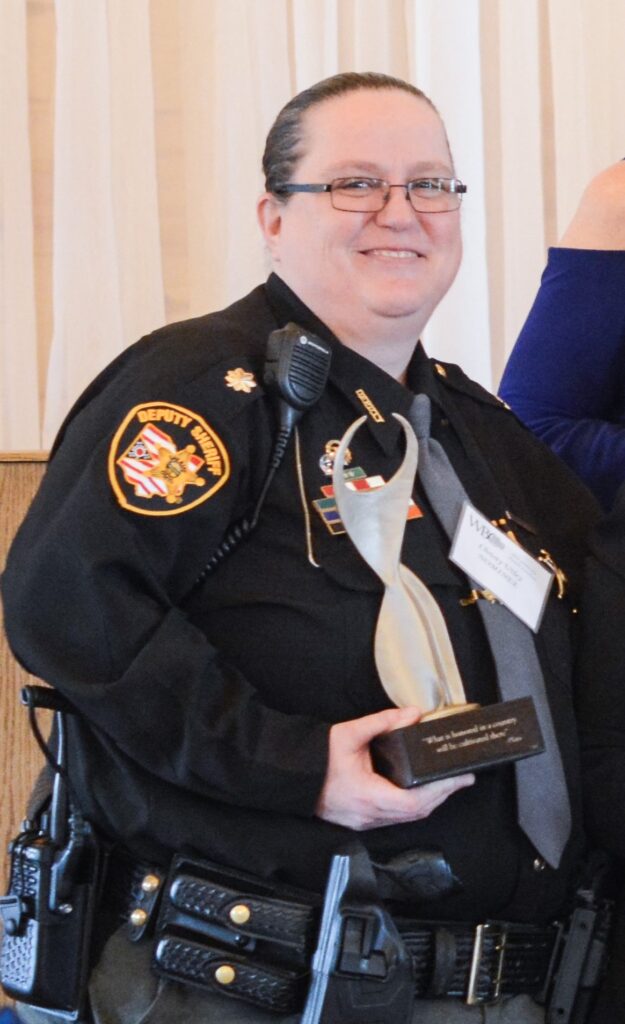 Major Christy Utley, 2019 ATHENA Recipient
Marion County Sheriff's Office
Ever since she was a little girl, she wanted to work in law enforcement.
But it would take time and effort for Christy Utley, now a major at the Marion County Sheriff's Office, to prove herself as a woman who was cut out to work in a male-dominated field, she said.
"When I first started, I got on as an auxiliary, which means you volunteer your time. I would volunteer 20 to 100 hours a month to prove myself, to be able to get in there because I knew there was no women on the road" patrol, she told the Star Monday.
On Monday, Utley received the Athena Award from the Marion Women's Business Council, which has presented the award every year since 1998 to a woman who shows professional leadership, community service, and a passion for advancing women.
Utley served as an auxiliary deputy for about two years from 1998 to 2000, she said. In 2000, she hoped to become a deputy sheriff when the position opened up. But she said she was "passed over a couple times."
"They hadn't had a good experience with women on the road," she said. "I said, 'Well, I want to change that. Give me a shot.'"
She worked as a dispatcher from 2000 to 2002, when she finally got that shot and was made a Marion County deputy sheriff, she said.
At the time, her children were around 4 and 8 years old, she said, during which time she worked a lot of late-night shifts to allow herself to spend time with her children during the day.
From there, she rose in the ranks, joining the MARMET Drug Task Force in 2004. She was promoted to lieutenant in 2015, and last year, she became major of operations.
It's people whom she helped who remind her why she got into the field.
"I have people now that still contact me and say, 'Thank you for keeping me clean because you made a difference in my life.' That's why I became a cop," she said.
The Marion Women's Business Council will donate about $3,340 to the Boys and Girls Club of Marion County, the nonprofit of Utley's choice. A matching donation of $2,500 will also be donated to the Boys and Girls Club by Modern Woodmen of America, a financial services organization.
2018
Shary Williamson, 2018 ATHENA Recipient
Author and Educator
Nominated by Pam Hall and Doris Dunn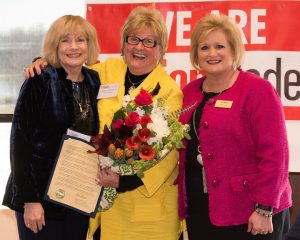 The Women's Business Council of Marion, Ohio awarded Shary Williamson the 2018 ATHENA Leadership Award® in festivities that took place Monday, March 12, in Maynard Hall on the OSUM/MTC Campus.
Nearly speechless upon accepting the award, Williamson was known for 40 years as the teacher with the piano in her classroom. Now she is known as the Head Elf as it is her current project that has touched lives around the world.
In 2013, Williamson began The Woodland Elves project. Her first book, The Woodland Elves published in 2014, has sold thousands of copies and can be found in schools and homes in 68 different countries. Since then there has been a CD to accompany the first book, Small Talk card game to promote sharing and discovering, a second book, The Secret in The Forest, and her third book, The Woodland Elves Buried Treasure, debuts this month.
In 2015, Williamson opened The Woodland Elves adventure trail to the public. It's a quarter mile, two-hour multigenerational educational nature trail that promotes literacy, the love of nature, art, creativity, imagination and oneness.
As part of the Athena process, each winner choses a Marion-area charity of their choice for the proceeds of a silent auction and a $2,500 matching donation from Modern Woodmen to be given to. Williamson's choice of the Marion's Children's Museum, Explore-It-Torium, where she is on the board of directors, will receive $5,359 in her name.
Non-profit donation choice – Explore-It-Torium.
2017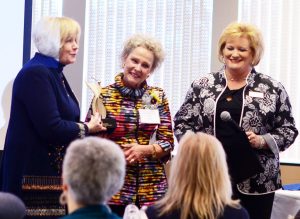 Pam Hall, 2017 ATHENA Recipient
President, Marion Area Chamber of Commerce
Nominated by Bob Haas
The Women's Business Council (WBC) of Marion, Ohio awarded Pam Hall the 2017 ATHENA Leadership Award® in festivities that took place Monday, March 13. Hall is a lifelong Marion resident who, for the past 18 years, has led the Marion Chamber of Commerce as president.
As part of the Athena process, each winner chooses a Marion-area charity of their choice for the proceeds of a silent auction and a $2,500 matching donation from Modern Woodmen to be given to. Hall's choice of the Homeless Shelter will receive $5,112 in her name.
During Hall's tenure at the Chamber, membership has remained strong and the organization has expanded business networking opportunities in a number of areas. Hall has also been responsible for the Chamber-sponsored Leadership Marion program, which has helped hundreds of potential Marion leaders learn about our community and develop leadership skills that will help Marion prosper.
As the Marion Chamber president, Hall has brought the Chamber into the 21st Century by creating opportunities for local businesses to market goods and services to other members, developing and implementing strategies for informal and formal networking, and ensuring that the Chamber is using the Internet in an effective way to promote Marion. Hall has not acted merely as a "caretaker" of the Chamber – she continually looks for ways to improve services.
Hall is a long-time supporter of United Way, serving both as board chair and campaign chair in the past. She has served on the boards of the Marion Community Foundation, the Marion Area Counseling Center, the Emanuel Lutheran Day Care, Rushmore Academy, the Marion CanDo! Marion Matters, Alber Enterprise Center, and the Army Corps of Engineers Restoration Advisory Board. Hall is past President of Marion Noon Kiwanis, and a current member of the Blue Thong Society, the Marion Rotary Club, and DaySpring Wesleyan Church.
Non-profit donation choice – Heart of Ohio Homeless Shelter.
2016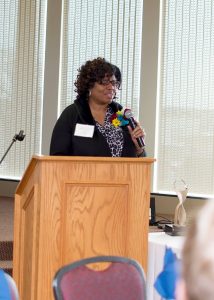 Arnita Pittman, 2016 ATHENA Recipient
Executive Director and Founder, Arnita Pittman Community Recovery Center
Nominated by Tom Stotts
Arnita Pittman retired in 2012 from the Ohio Department of Rehabilitation and Corrections where she had begun at the Marion Correctional Institution in 1978 and was the first African American female Inspector. Her plan had been to take a trip to Israel. However, after multiple requests for assistance, Pittman saw a community need and opened up an office at the Southland Mall called the Arnita Pittman Community Recovery Center. While at the mall, she held addiction groups and conducted individual therapy for substance abuse.
In 2013, Pittman relocated to her present location on North Main Street (the former North Main Street School) where she continues to offer group and individual therapy for substance abuse. In February 2015, Pittman expanded her services by opening up Buckeye Recovery Housing for men at that location, with the goal to one day have residential program for local women which would allow them to undergo treatment while still being able to continue to care for their children.
Pittman goes above and beyond by transporting individuals who stay in the housing program to get to their place of employment, which can be as far as Columbus and Marysville.
Pittman is in the beginning stages of a project to house a detox center at the Arnita Pittman Community Recovery Center. The facility opens to the homeless in order for them to get food which has been donated by community businesses; as well as offers a meal to the homeless during Thanksgiving and Christmas and a free community breakfast the first Saturday of every month.
In 2014, Arnita was the recipient of the Black Heritage Council of Marion award for Outstanding Services in Business.
Tom Stotts indicated in his submission, "Arnita has so much compassion in the work she does. She could have just retired and moved on back in 2012. However, she gave up on retirement and went with her passion to help those in need when it came to addiction."
Non-profit donation choice – Maryhaven Women's Program
2015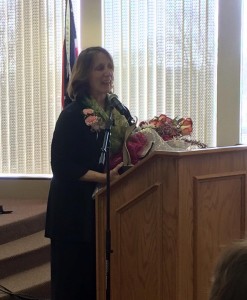 Jodi Demo-Hodgins
Executive Director, Crawford-Marion Health Services
Nominated by Angela Carbetta
"Jody's list of credentials and professional accomplishments is long and impressive. Even more impressive is her warm, caring heart and her zeal for addiction recovery programming."
"I have known and loved Jody for many years," says Angela Carbetta, director of Marion County Recycling & Litter Prevention. "We partnered on Marion County's first Medication Disposal Day in 2010. I was touched by Jody's thorough, professional approach, all the while demonstrating heartfelt compassion for those affected by drug abuse and addiction."
"Jody arranged a town hall meeting in 2013 to address Marion's heroin epidemic. A tireless organizer, Jody gathered addicts, families, teachers, counselors, elected officials, and the media for dialogue and education. She is the chair of Marion's Opiate Task Force, now called STAND Coalition.
"Jody founded the local AIDS Task Force, serves as a Marion Matters Volunteer, is co-chair of Mid-Ohio Ex-Offender Reentry Coalition, and sits on the boards of United Way, Marion Community Health Clinic, and the Boys and Girls Club of Marion. She works with the Teen Institute youth leaders, and helps with countless recovery support groups and suicide prevention programs. Jody has been instrumental in the placement of local sober houses for recovering addicts. Through her efforts, Marion now has permanent drug disposal locations at the Marion Police Department and Marion County Sheriff's Office."
Angela goes on to say, "Jody knows how to bring everyone to the table. It takes courage and humility to organize leaders. She has earned the respect of medical experts, legislators, social workers, teachers, counselors, and those struggling with addiction and mental illness. Always approachable and kind, she saves lives and helps rebuild lives every day. Her approach to addiction treatment is honest, strong, and direct, yet gentle. Jody works on the front lines dealing with one of the biggest problems we face as a society, always demonstrating excellence, creativity, initiative, and grace."
Non-profit donation choice – Marion Matters, Inc.
2014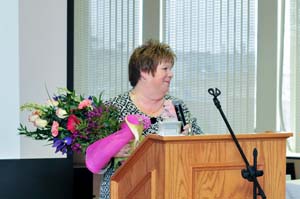 Phyllis Butterworth
Director of Development, Marion General Hospital Foundation
Nominated by Nicole Workman
"Phyllis has been reporting, promoting, advertising, managing public relations and leading the way in Marion toward a better community. She has shown remarkable creativity and initiative simply in the way she has sustained a reputation of excellence through the years. Her tenure as director of public relations and marketing at Marion General resulted in 21 national awards for excellence in healthcare marketing. The recognition includes numerous first place awards which grew the hospital's brand awareness.
"Phyllis has served on many community boards and advisory committees lending her expertise, time and efforts for everything from St. Mary's Church to the Marion Community Foundation Board. She assisted with guidance on awareness campaigns, employee relations, budgeting and administration. She has also mentored those in her field in growing their talent.
"Her love for her community and a desire to make it a better place is reflected in the Spirit of HOPE Fund that she and her late husband, John, established with the Marion General Hospital Foundation, to assist local cancer patients and their families. The Fund provides resources for expenses that are not typically covered or are "under-covered" by healthcare insurance.
"As a community faculty member at Marion Technical College, she has taught hundreds of students the ins and outs of marketing, planning and communications."
Nicole states, "I was instantly drawn to her willingness to offer suggestions, ability to contribute and her amazing ideas…I have called on Phyllis many times for advice, support and guidance. She has been a wonderful resource to learn about the world of public relations. She is my biggest cheerleader – picking me up, putting things in perspective and giving me ideas on how to handle roadblocks, barriers and make progress.
"I know that the experience that I have witnessed is not unique, as every board that I am on throws her name in the hat as a possible board member because the community knows that Phyllis is a leader, she is willing to give her talents to the community.
Non-profit donation choice – The Spiritof HOPE Fund
2013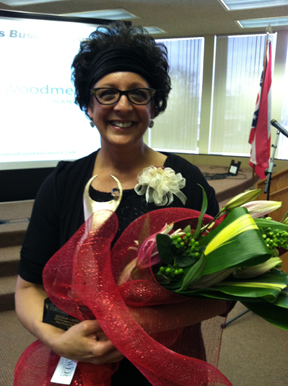 Angela Carbetta
Director of Marion County Recycling & Litter Prevention
Nominated by Anthony Carbetta Kraschinsky and Emily Meyer
"Angela is committed to living green and that is her work, hobby and passion every day, to make Marion a cleaner and healthier place.
She has worked successfully over the years to educate the citizens of Marion about the importance of recycling, the elimination of litter and other important environmental issues. She has become synonymous with recycling in Marion. Her passion for recycling is contagious.
She was instrumental in the implementation of recycling at the Marion County Fair and the Popcorn Festival and every large event held in town. Her diligence has changed the picture of our community.
Angela collaborated with four agencies to organize a Medication Disposal Day to properly and safely get unused drugs out of homes and off the streets.
She has organized "Fishing for Litter" for which she was awarded a $1,300 grant from Ohio American Water. She also organized an electronics collection event which took in 20,000 pounds of TVs and computers. Through grant and corporate donation money Angela was able to start the program "Glass Act" which now collects about three tons/week of mixed glass bottles and jars for recycling.
She won an award from the National Glass Packaging Institute for starting the Glass Act program."
Emily writes: "I have seen numerous occasions the extent of Angela's passion for the growth of young people, and especially women. In our many collaborations over the past nine years she and I have worked with a number of under graduate and high school aged students. She has always taken the time to speak individually with students, encouraging them and pushing them further to succeed. Several years ago when I began a Master's program, Angela was my pillar of support. She encouraged me along the very long path to graduation."
Non-profit donation choice – Keep Marion County Beautiful for Marion
2012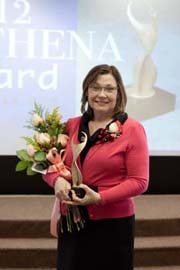 Teresa Ballinger
Municipal Court Judge
Nominated by Jeannie Brewer & Teresa Haycox
Judge Ballinger was a teacher in the Pleasant School District and was highly involved with implementing their Peer Mediation Program/Conflict Resolution. If having a teaching degree wasn't enough, Judge continued her education and career path by becoming a certified mediator, then an attorney and elected as Judge for the Marion Municipal Court. Judge Ballinger expanded services in the court to address issues she saw come before the bench over and over. She initiated the DUS Docket to hold people accountable for Driving Under Suspension and to give them guidance and objectives to get themselves into compliance with the driver's license requirements. Judge Ballinger understands the hugh transition for young people between being a teenager and being 18 and the difference between the reality of Juvenile Court and Municipal (adult) Court. The Judge started an Underage Consumption Docket. The goal is for young people to gain an understanding of their behavior while under the influence and how this can lead to further inappropriate and detrimental consequences later in life. She implemented the "Stop Lifting Program", " Drug Court ", and "Veteran's Court". Judge Ballinger has had an intricate hand in Marion Matters. Marion Matters is based on a national known and recognized program called "Bridges Out of Poverty". In 2010, more than 1,000 Marion citizens participated in Bridges training. Judge Ballinger was one among the group that facilitated those trainings and felt that more than presenting a program and information was needed. Action speaks far greater than words, and that is how Marion Matters was born. Judge Ballinger is an active member in the Marion County 's Re-entry Coalition and Women's Business Council.
Non-profit donation choice – Marion Matters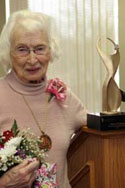 2011
Trella Romine
Former owner of Hemmerly's Florist, historian and author.
As a single mother, Trella took on ownership of Hemmerly's with new vision, guts and ….a hint of stubbornness. With her success in business, she was able to hand off a successful business and retire in 1982.
Trella has become a quiet foundation for her favorite causes that dot the Marion County map. The Marion Historical Society, the OSUM Campus Prairie, the Rinker Howser Resource Center at Heritage Hall, MCHS Heritage Preservation Endowment Fund, the Trella Romine Prairie Preserve, Terradise Nature Preserve and the Ohio State University at Marion scholarship established in her name.
Trella has written, edited and guided the reprint of a large number of historical publications. And has counseled a number of authors through the publication and marketing of their books.
She continues to be a business and personal mentor to the current owner of Hemmerly's, as well as the Directors of the Marion County Historical Society and the Marion County Park District.
Trella has been awarded a number of honors, with the most recent being the Edward J. Tiffin Award in 2008 from the Ohio Historical Society."
Non-Profit Choice: Marion Historical Society
2010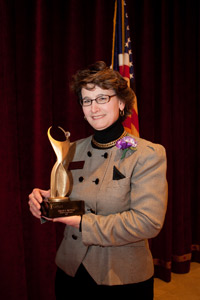 Diane Watson
Executive Director Marion Area Convention & Visitors Bureau
Diane Watson is currently the Director of The Marion Area Convention & Visitors Bureau. She has been able to promote the Marion area to a wide variety of visitors by the quality of her leadership and marketing abilities. By her efforts, the tourism industry has a voice that gives Marion, Ohio a name, an identity and benefits the community with dollars spent to help the Marion economy. Her efforts garnered the Ohio Travel Association's Ruby Marketing Award for the Marion's Amazing Treasures summer promotion. She was named Ad Person of the Year in 1993.
Diane has also been a role model and has not only given of herself without hesitation, she has volunteered her services on countless occasions when she knew doing so would involve a great dedication of time and effort. Her community involvement includes: Women's Business Council, St. Mary Boy Scout Troop 50, St. Mary Church and St. Mary St. Vincent DePaul Campaign co-chair, just to name a few.
2009
Tarina has worked tirelessly to help the Chapter fulfill its mission of helping people prevent, prepare for, and respond to emergencies…seeks out ways to serve more people…has given women opportunities to learn new skills… helps people help themselves…and has the imagination to see how you might get there." Rose's community service is extensive, and includes Altrusa, Rotary, United Way of Marion County, League of Women Voters, Chamber of Commerce, Marion AIDS Task Force, Shelter Program, Child Care Choices, Marion City Schools, Tri-Rivers, 4-H, and LOVE, Inc., and has earned numerous achievements, awards and recognitions.
2008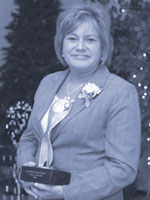 Kathy Masters
National City Bank
Kathy Masters has been a loyal and influential business woman at National City Bank for years. Her clients rave about her always outstanding customer service, and her employees strive to be like her. Her leadership is unrivaled, as demonstrated by the recognition she's received. She is driven, intelligent, and successful, and she worked from the bottom up to get where she is today. Kathy influences and helps women everyday. She has patience and she enjoys her role; she can do it with her eyes closed. Almost daily other female managers call Kathy with customer concerns, seeking her advice on how to deal with their managerial concerns. She also has spent the past 30 years of her life volunteering her free time to better this community. Not only does she show other women that they can succeed, but she shows them that professional success and worth is measured by more than a job title. Her leadership is unmatched in this community.
2007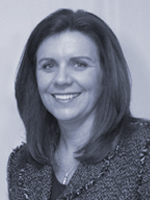 Vicky Wood
Marion Technical College
Throughout her career, Vicky has modeled leadership development and advancement of women in business. Vicky earned her associates degree from Marion Tech, and went on to earn a Bachelor's degree from Ashland and a Master's degree from BGSU. Vicky has taught business and office information courses at MTC for over 20 years. Vicky is a respected leader at MTC. She leads by example, but also constantly challenges the department faculty to find ways to serve the Marion community as a part of the curriculum. In the past few years, faculty and students were involved in real-world projects with Goodwill, the Palace, and the Downtown Arts Festival. Vicky is a great model of the attributes set forth in the Athena award criteria. She put herself through school (all the way through a MA degree). She has juggled family, jobs, and education to obtain a Masters degree and is now planning on continuing her education, working toward a PhD and is very much aware of the struggles faced by women who pursue a career. She continues to push the Business Department forward at MTC, and in doing so she creates opportunities for women who are jugging family and careers.
2006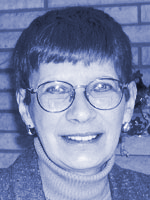 Sheryl Rhoades
Big Brothers/Big Sisters of Marion County
The 2006 ATHENA recipient was Sheryl Rhoades. Sheryl serves as Executive Director, Big Brother Big Sisters of Marion County, Vice President of Marion Noon Kiwanis, Member of WBC, Ohio Youth Services Advisory Board, Tri-Rivers Culinary Arts Advisory Board, United Way volunteer, W.I.N.S. and W.I.N.S. Plus Volunteer, Interview Coach Miss Ohio Scholarship Contestants, 4-H Project Judge and Safety Speaking Contest Judge. Sheryl has initiated after-school and summer programs and applied for grants to increase funding for these and similar programs. Her community involvement includes Past Division Leader, Team Captain and Speaker's Bureau for United Way, 10 years on the D.A.R.E. Board, 17 years on the Elgin School Board, 7 years on the Tri-Rivers Board, YMCA Board, 4-H Advisor and Past Advisor for Elgin Drill Team, Cancer Stereothon, Ohio School Board Association, and Ohio Human Services Personnel Association.
2005
Sandra has chosen leadership positions where she is actively engaged with women. She has served on the boards of the following: Turning Point, Junior Achievement, Boys and Girls Club, Mid Ohio National Association of Credit Managers, NACM Chairperson-Columbus, IMA Marion Chapter President (institute of Management Accountants), Director of Junior Achievment, United Way Audit Committee, Young Women's Business Academy, Salvation Army, Marion Industrial Club, Women's Business Council and Community Employment Service Business Advisory Committee and Y.M.C.A.
She is a spokesperson for young women to pursue career choices in accounting and credit analysis. She has also earned her master gardening certification thru OSU Extension Office. Sandra has been married for 44 years and raised three children, two who are graduates of Ohio State. She is a life long resident of Marion and a member of Emanuel Lutheran Church.
2004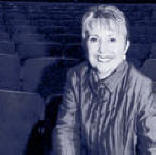 Elaine Merchant
Marion Palace Theatre
Elaine Merchant was the 2004 recipient of the Athena Award. Elaine is the embodiment of energy in promoting the continued growth of the Marion Palace Theatre. Her commitment to helping women in their business growth is evident with her role as the Director of the Palace Theatre. As a woman who has spent her whole life in Marion and as a leader of many social service agencies prior to becoming Director of the Palace Theatre, she is always serving as a role model for women. Elaine is a founding member of the Women's Business Council.
2003

Diane Glassmeyer
Clear Channel Marion
Diane Glassmeyer was the 2003 recipient of the Athena Award. Diane is the only female vice president of Clear Channel Corporation's worldwide top management positions. She is a role model within her own company in Marion. She has devoted a tremendous amount of time and effort to community causes and serves on boards of directors of not for profit organizations. She has always encouraged women to reach for new levels in her corporate role, as well as being a mentor to women in the community. She was one of the presenters, as well as, a sponsor of the Business Boot Camp for Women, a recent project of the Women's Business Council. The camp was a half day of basic training for women seeking information to be entrepreneurs and start their own businesses.
2002

Anne Lowe
LPL Financial Services
Ann Lowe was the 2002 recipient of the Athena Award. Ann was a catalyst to grow the Women's Business Council from a small of group of women with the common goal of helping women in their professional development to an organization of structure and resolve. The Women's Business Council under her leadership grew beyond its earliest expectations to encompass the needs of many in women corporate and entrepreneurial businesses. At the same time, she was moving from a corporate position to co-owning her own financial services firm. She is involved on boards of community organizations and continues to promote opportunities for women to start their own businesses.
2001

Karen Ream
Ohio State University Marion
Karen Ream was the 2001 recipient of the Athena Award. Karen is active in community development projects. Through her tireless efforts, she created an entrepreneurial camp for high school girls on the campus of The Ohio State University-Marion. The Young Women's Business Academy opened the eyes of many young women interested in exploring the possibilities of owning and operating a business of their own. Karen is an inspiration to many of her peers with her years of service on community boards and service organizations.
2000

Deb Rapert
Marion General Hospital
Debra Rapert was the 2000 recipient of the ATHENA award. Deb represents devotion to community service and mentoring of women. Through her career in human resources, she has encouraged women to succeed in corporate life as well as in community service. Deb Rapert is a founding member of the Women's Business Council and has given countless hours of service to the organization as it began from a small group to the expanded association of today. Through the many social service organizations in which she takes active leadership roles, she symbolizes the ability of women to help each other and expand their opportunities.
1999

Lori Litzenberg
Marion County Human Services Department
Lori Litzenberg, Director of Marion County Human Services Department, is not only the leader of a social service agency, but the creative force for helping women gain their independence and self-sufficiency. This year's Athena Award recipient has tirelessly worked to create programs to help woman find their own potential and lead productive and fulfilling lives. She has exhibited the essential qualities of compassion and inspiration to assist women and families to seek opportunities for a better life.
1998

Lois Fisher
Fisher and Associates
Lois Fisher was the first Marion, Ohio recipient of the Athena Award. In 1998, the Women's Business Council adopted the Athena Award as a community award for a woman of distinction and leadership. Lois Fisher, as one of the founding members of the Women's Business Council and an activist for women in Marion, exemplified the philosophy of the Athena Award. She has given many women direction and inspiration to encourage their entrepreneurial spirit. In addition, Lois is committed through her own business to the development of downtown business and activities for Marion, Ohio.