Shary Williamson, 2018 ATHENA Recipient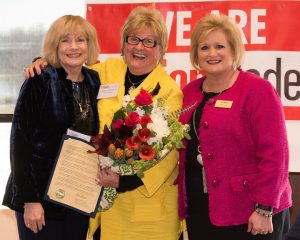 The Women's Business Council of Marion, Ohio awarded Shary Williamson the 2018 ATHENA Leadership Award® in festivities that took place Monday, March 12, in Maynard Hall on the OSUM/MTC Campus.
Nearly speechless upon accepting the award, Williamson was known for 40 years as the teacher with the piano in her classroom. Now she is known as the Head Elf as it is her current project that has touched lives around the world.
In 2013, Williamson began The Woodland Elves project. Her first book, The Woodland Elves published in 2014, has sold thousands of copies and can be found in schools and homes in 68 different countries. Since then there has been a CD to accompany the first book, Small Talk card game to promote sharing and discovering, a second book, The Secret in The Forest, and her third book, The Woodland Elves Buried Treasure, debuts this month.
In 2015, Williamson opened The Woodland Elves adventure trail to the public. It's a quarter mile, two-hour multigenerational educational nature trail that promotes literacy, the love of nature, art, creativity, imagination and oneness.
Williamson was nominated by Pam Hall and Doris Dunn.
As part of the Athena process, each winner choses a Marion-area charity of their choice for the proceeds of a silent auction and a $2,500 matching donation from Modern Woodmen to be given to. Williamson's choice of the Marion's Children's Museum, Explore-It-Torium, where she is on the board of directors, will receive $5,359 in her name.
Other nominees included:
Katherine (Kate) Fisher,
Owner, Redbrick Social Media
Chris Haas
Financial Director, Former Executive Director,
Marion Adolescent Pregnancy Program
Heidi Jones
Director, Marion Matters, Inc.
Jackie Peterson
Pastor, Logos Christian Ministries
Lauren Schifer
Director, Mary Kay
Cheryl Wickersham
Vice President of Housing Services, United Church Homes
Kristi Wink
Palace Theatre Production Director and Choreographer, Marion Palace Theatre and Activity Director, Marion Senior Center
The ATHENA was inspired by the goddess of Greek mythology known for her strength, courage, wisdom and enlightenment – qualities embodied in the ATHENA Leadership Model. The Award is unique in both scope – local, national and international – and the ATHENA mission upon which it is based. The ATHENA Leadership Award is presented to a who is honored for professional excellence, community service and for actively assisting women in their attainment of professional excellence and leadership skills.
Marion Women's Business Council is dedicated to inspiring women to reach their full potential through mentoring, networking education and recognition. Visit browse our site for more information on the ATHENA or how to become a part the Marion Women's Business Council.