Pam Hall, 2017 ATHENA Recipient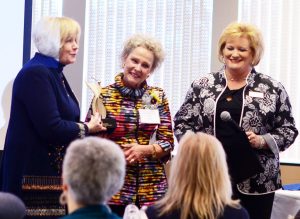 The Women's Business Council (WBC) of Marion, Ohio awarded Pam Hall the 2017 ATHENA Leadership Award® in festivities that took place Monday, March 13.  Hall is a lifelong Marion resident who, for the past 18 years, has led the Marion Chamber of Commerce as president.
"I'm humbled and I'm honored and I'm grateful," said an emotional Hall who has fought serious health issues for over a year. "I'm grateful to get to be here, and I don't mean here (indicating the room) as much as here (indicating the larger world)."
Hall continued, "I want to thank the leadership of the Women's Business Council who have kept this going for so many years.  We oft find things to be negative about, but our whole MarionMade campaign is helping us think much more positively about our community, and this event has allowed us for 20 years now to think positively about things that happen in our community."
Hall also paid tribute to her husband, Chuck, for his support throughout the years … especially the past year.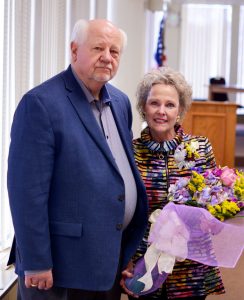 As part of the Athena process, each winner choses a Marion-area charity of their choice for the proceeds of a silent auction and a $2,500 matching donation from Modern Woodmen to be given to.  Hall's choice of the Homeless Shelter will receive $5,112 in her name.
During Hall's tenure at the Chamber, membership has remained strong and the organization has expanded business networking opportunities in a number of areas.  Hall has also been responsible for the Chamber-sponsored Leadership Marion program, which has helped hundreds of potential Marion leaders learn about our community and develop leadership skills that will help Marion prosper.
As the Marion Chamber president, Hall has brought the Chamber into the 21st Century by creating opportunities for local businesses to market goods and services to other members, developing and implementing strategies for informal and formal networking, and ensuring that the Chamber is using the Internet in an effective way to promote Marion.  Hall has not acted merely as a "caretaker" of the Chamber – she continually looks for ways to improve services.
Hall is a long-time supporter of United Way, serving both as board chair and campaign chair in the past.  She has served on the boards of the Marion Community Foundation, the Marion Area Counseling Center, the Emanuel Lutheran Day Care, Rushmore Academy, the Marion CanDo! Marion Matters, Alber Enterprise Center, and the Army Corps of Engineers Restoration Advisory Board.  Hall is past President of Marion Noon Kiwanis, and a current member of the Blue Thong Society, the Marion Rotary Club, and DaySpring Wesleyan Church.